Classic 25/45
Our classic
Model Classic in 25km/h or 45km/h
With the Classic 25/45, we offer you a top-class e-bike that impresses with performance, flexibility and pricing in its class.
Our Classic 25/45 is available in a 25 km/h and a 45 km/h version. Both models are based on the same hardware and differ only in the software used and the diameter of the front sprocket. This provides the ability to easily upgrade or downgrade after purchase, ensuring you always get the driving experience you want.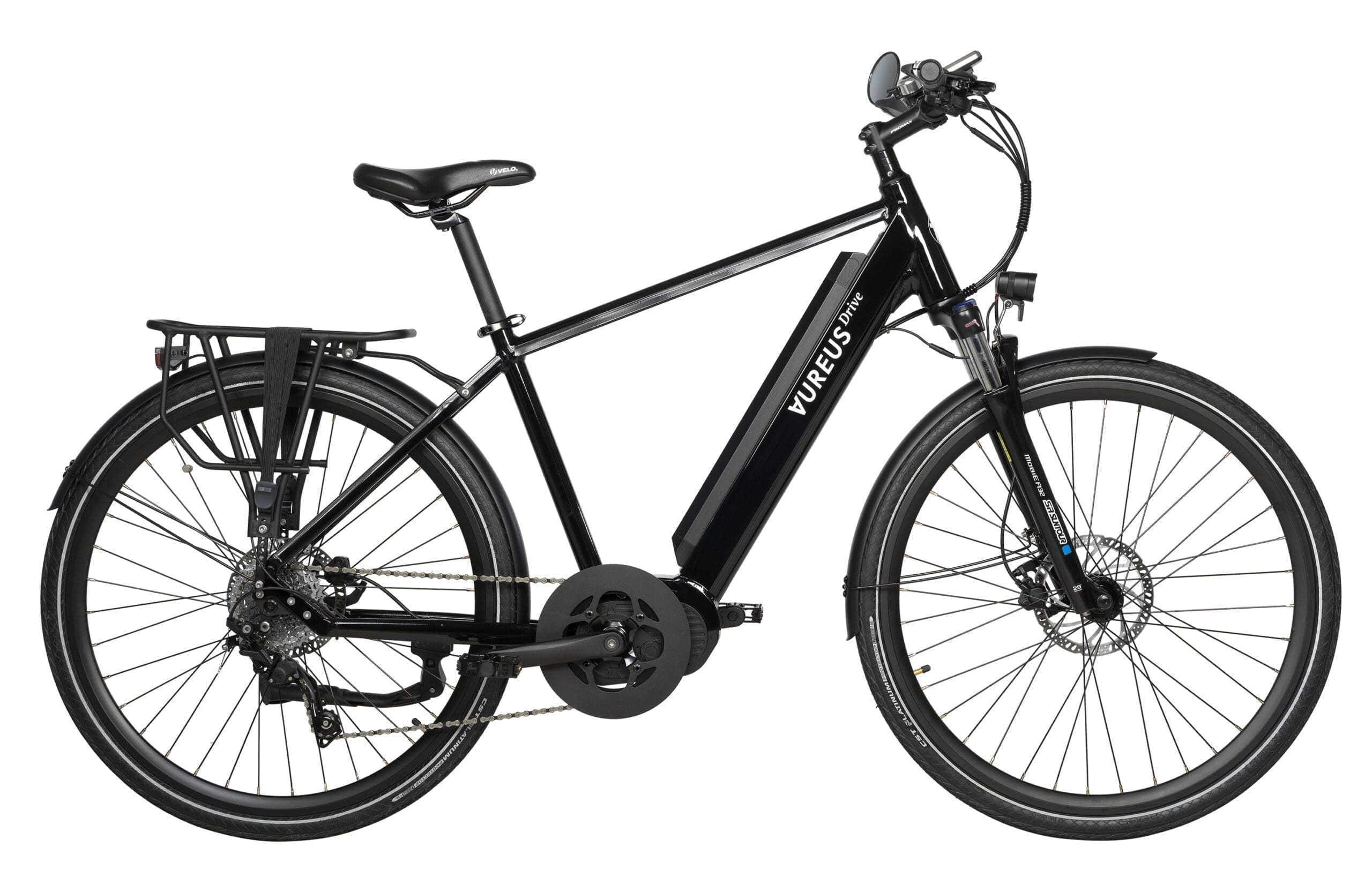 An outstanding feature of the Classic 25/45 is the price-performance ratio. In the 45km/h segment in Switzerland, it is one of the cheapest speed pedelecs. For only CHF 3390, you get an e-bike that can keep up with more expensive competitor products in terms of quality and performance.
The 25 km/h version of our Classic 25/45 is also a real powerhouse. With its 500 W motor delivering 100 Nm of torque, it is one of the most powerful city e-bikes on the market, pushing the limits of the legally permissible 500 W motors. Compared to the common 250 W engines that comply with EU standards, we as a Swiss startup offer our customers in the domestic market significantly more power.
With the Classic and Comfort models, you are well equipped if you need to tow a trailer or drive uphill. Thanks to the fast response and high torque of the mid-engine, these models are ideal for short distances under 20 km. For longer distances we recommend the Power45.
The components
/ The electric motor
500 watts of peak power support you during acceleration or when starting uphill. The engine is equipped with a torque sensor that measures the rider's force and adjusts the engine power accordingly. This gives the feeling of riding a normal bike with a lot of tailwind. Also, the engine is equipped with an idle, so you can drive without a battery without much resistance from the engine.
Name
Aureus Mid-Drive
Sensors
Torque sensor which measures the driver performance
Speed sensor
Spoke magnet sensor
Power
500 watt
Voltage
48V
Sliding aid
Yes up to 6 km/h
Torque
100Nm
Gearbox
Yes with gear ratio 33.6:1
Speed
25 km/h or 45km/h depending on software package
Weight
3.6kg
Power-assist ratio
36%-300%
/ The disc brakes
Reliable, high-quality hydraulic disc brakes of the Tektro brand have established themselves on the e-bike. They enable safe braking at high speeds. Large diameters of 180 mm rear and front provide maximum safety even in the rain.
Brake technology
Hydraulic
Brake lever length
2-finger
Number of brake pistons
2 Pistons
Brake caliper
Tektro HD-M-285 disc brake caliper front / rear Post Mount
Disc diameter
180 mm
/ The circuit
The AureusDrive relies on a proven and robust 10-speed Shimano Deore gears. With a robust motor, the 10 speeds are ideal and allow the use of a thick, stable and low-maintenance chain.
Gearshift
Shimano Rapidfitre plus SL-M6000
Cassette
Shimano Deore CS-M4100 10S
Chainring
AureusDrive 52T with trouser guard
Front derailleur
Shimano Deore RD-M6000 10s
Chain
KMC e10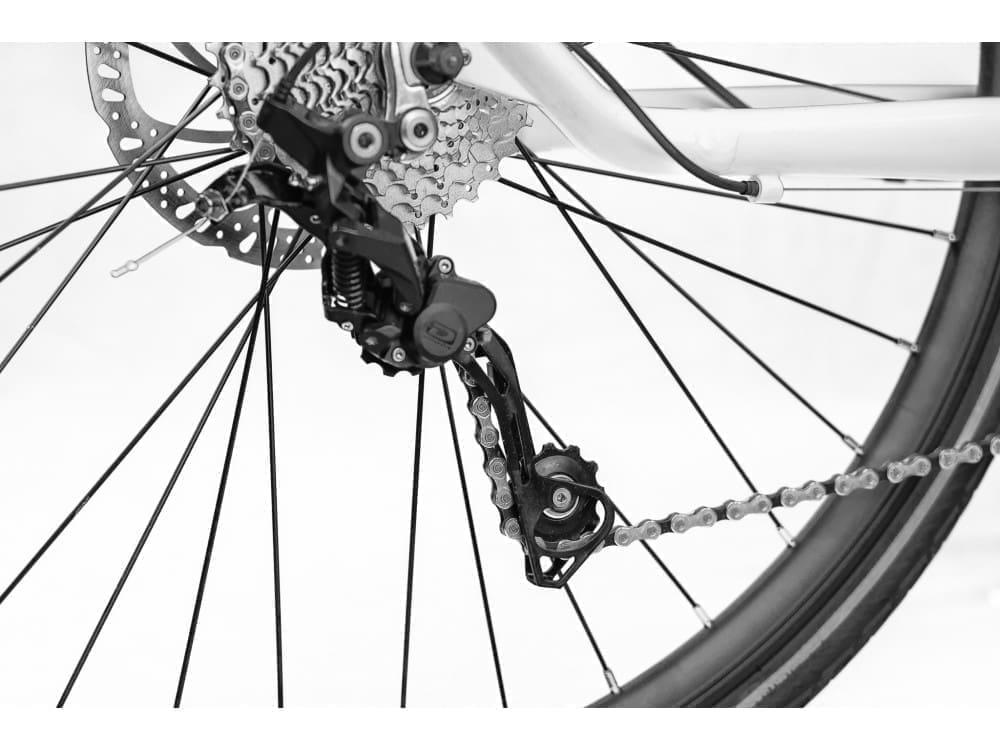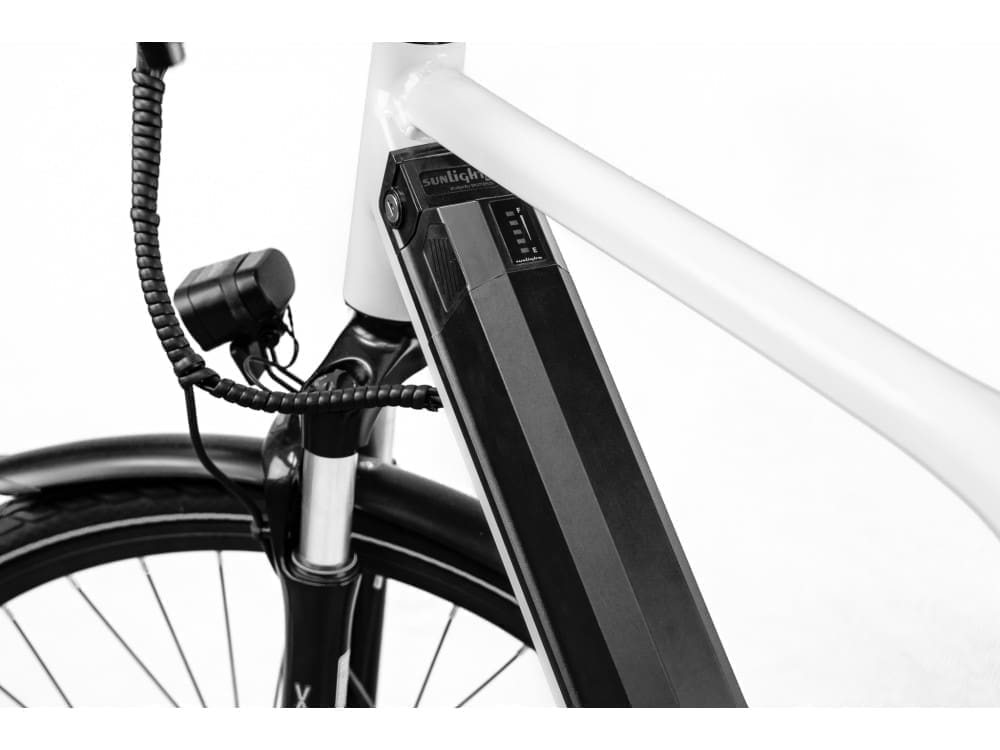 / The battery
The powerful 48 V battery with 14 Ah, integrated into the frame and easy to remove, provides 672 Wh of energy storage. The battery uses robust and durable Samsung lithium-ion cells. With this energy it is possible to drive up to 70 km in eco mode (45 km/h on the model).
Range at 45 km/h version
Eco(70km), Tour (50km), Speed(40km), Turbo (35km)
Voltage
48v
Battrie cells
SamsungLithium-ion cells
Material battery case
Aluminum
Range at 25km/h version
Eco(110km), Tour(80km), Speed(60km), Turbo(50km)
Capacity
14Ah (672Wh)
Cell size
18650 cells(18mm diameter, 65mm length)
Weight
3.3 kg
/ The display
A 2.1-inch LCD display provides information on assistance level, miles traveled, speed, battery status, average speed and more.
Size
2.1 inch
Technology
LCD
Number of support levels
4 (Eco,Tour, Speed, Turbo)
Classic 25/45 model with toothed belt and continuously variable hub gears
This variant of the Classic 25/45 convinces with a combination of a continuously variable Enviolo hub gears and a robust Gates carbon timing belt. With this equipment it scores with durability, easy maintenance and optimal driving comfort.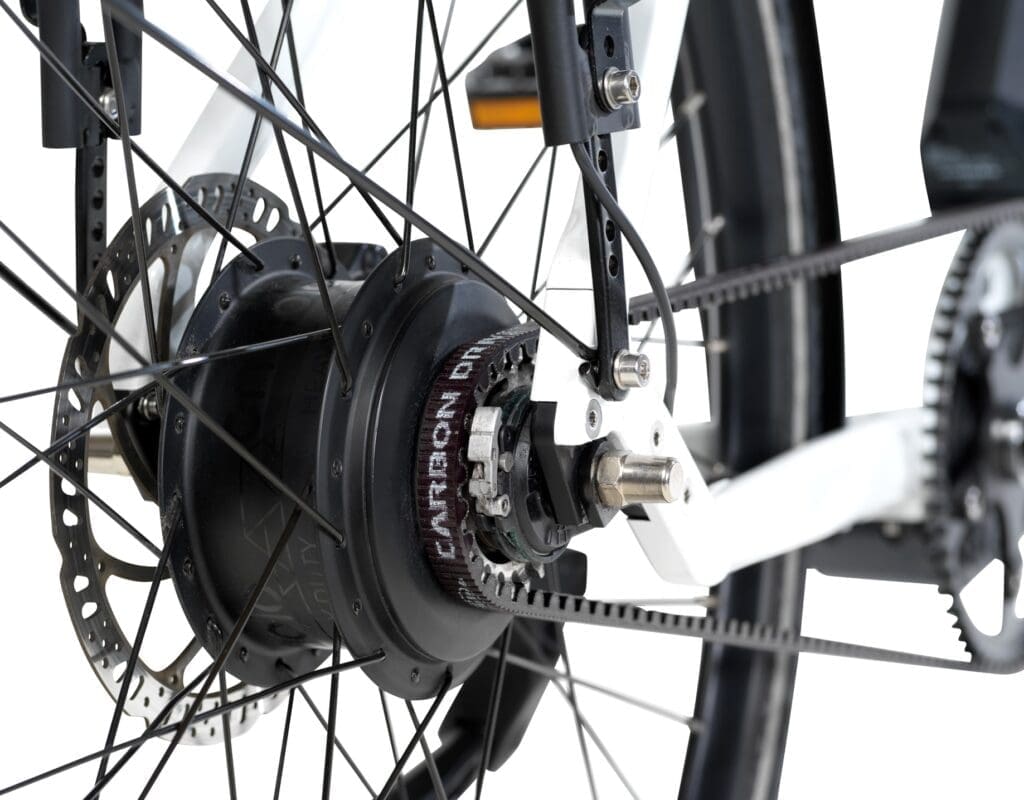 The advantages
Stepless Enviolo hub gears
Gates carbon timing belt
No oiling or maintenance of a chain
Cost: + 600 CHF
The technical data of the Classic at a glance
Frame:
welded aluminum frame
Frame color:
white, mint or black, (color choice at extra charge)
Frame size:
S (160cm-175cm) or M (175-195cm)
Tires:
CST 700x35C (28 inch)
Weight (incl. battery)
27kg
Engine:
500 watt TSDZ 10 mid-mounted motor with speed and torque sensor
Display:
2.1 inch LCD display
Pedal assistance:
4-stage (Eco, Tour, Speed, Turbo)
Speed:
25km/h or 45km/h
Battery:
670 Wh lithium-ion battery
Range at 45km/h version:
Eco (70km), Tour (50km), Speed(40km), Turbo (35km)
Range at 25km/h version:
Eco(110km), Tour(80km), Speed(60km), Turbo(50km)
Battery charging time:
Approx. 4 hours
Circuit:
10-speed Shimano Deore gears
Brakes:
Hydraulic brakes TEKTRO HD-
M285
Suspension fork:
Suntour Mobie A32 lockable
Saddle and handle:
Velo brand ergonomic grips and saddle
Luggage carrier:
Standard with luggage carrier
Handlebar:
Zoom brand aluminum
Warranty and upgrade option
3 year warranty on all components and the frame, excluding wear parts.

The Classic is available in 25km/h, as well as in 45km/h. An upgrade to 45km/h is possible at any time. The components are the same for both designs. The only difference is the gear ratio and the maximum speed at which the motor supports you.

For 45km/h you need a mandatory liability insurance with yellow number and at least a class M driver's license.
Frequently asked questions
Innovation & Quality: The Swiss Premium eBike Classic 25/45
Our Premium eBike Classic 25/45, created by a top Swiss eBike manufacturer, excels in performance, adaptability and value for money. It is available in a 25 km/h as well as a 45 km/h variant, whereby only software and front chainring diameter differ. Thus, it allows subsequent upgrades or downgrades for a customized driving experience.
Particularly noteworthy is its excellent price-performance ratio. For only CHF 3390, you acquire an eBike in the 45 km/h category that stands out in the price competition with other speed pedelecs in Switzerland.
The 25 km/h version is just as much of a powerhouse. With 500 W motor that delivers 100 Nm of torque, it is one of the most powerful city eBikes on the market. As an innovative Swiss manufacturer, we thus offer more power than the EU-compliant 250 W motors.
For use with trailers or in mountainous areas, our Classic and Comfort models are optimal. Thanks to high responsiveness and torque of the mid-motor, they are ideal for short distances under 20 km. For longer routes we recommend the Power45.
Order your Classic 25/45 online and experience the incomparable riding experience of our eBike.